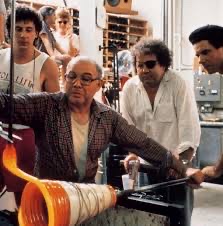 The glass by Lino Tagliapietra
The origin of the journey
An artist, a traveller, a great master.
Ca' Rezzonico, pays tribute to Lino Tagliapietra, born in 1934 in Venice.
Lino began to cultivate a passion for glass at the age of eleven, at twenty-one he became a master in a glassworks in Murano.
Continuously stimulated to create new works, he moved to America to be inspired by the technical perfection of glassmaking in order to be able, when the work was finished, to give the necessary beauty and to be astonished at the mere sight: he later opened a showroom in Seattle where he became known all over the world, transmitting the bond linked to his Venetian origins.
He has created twenty-one works over the last 30 years, more than seventy years of experience and still, at the age of eighty-eight, he does not stop creating unique and inimitable works, teaching the secrets of the craft to aspiring master glassmakers.
The unmissable handmade exhibition runs until September 25th 2023
Take a look at https://www.linotagliapietra.com