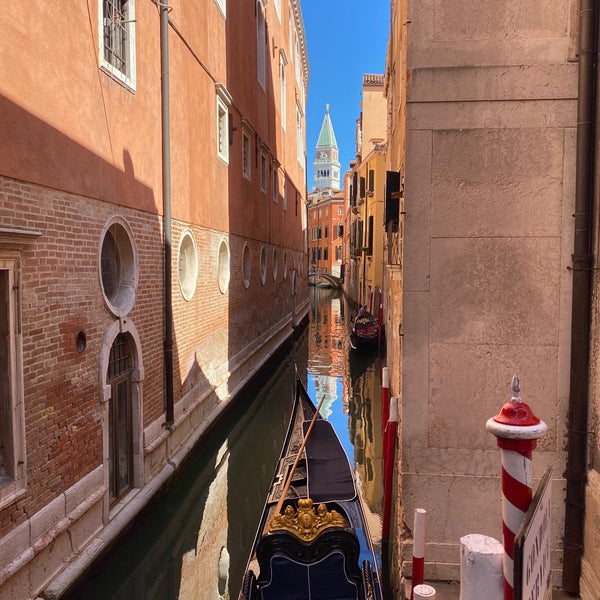 Lovo bridge and Gondola
A short walk from Rialto is the Ponte del Lovo, one of the smallest bridges in Venice and spanning the Rio de San Salvador, the structure is mainly brick and stone, meandering iron balustrades.
Tradition teaches that it is the only one of the more than four hundred Venetian bridges from which St. Mark's Bell Tower can be seen as a postcard backdrop, an exceptional sight for tourists, locals, and photographers.
In addition to St. Mark's Bell Tower, the essential symbol of Venice is the gondola, just a few steps from the Rio di san Salvador you can experience being rocked among the small and characteristic Venetian canals.

The traditional black color is originally due to the use of pitch as a waterproofing agent for the hull, after all, black has always been considered an elegant color, combined with the various and personal decorations, thus suitable for a stately means of transportation.
The gondola is also known as the "carriage" of the Grand Canal, now as a tourist attraction, was originally a domestic boat used by almost every Venetian family to get around the city.
The construction of the gondola usually takes more than a year, made up of more than 200 pieces, it is about 11 meters long, with an asymmetrical shape it is extremely easy to handle thanks to its flat bottom, it used to be built and housed in small shipyards called squeri, such as the squero of San Trovaso, where from the opposite side of the bank you will be able to see the latter.
The gondolier, whom you can find at almost every bridge, will be happy to give you this kind of experience, letting you imagine Venetian life at that time.

Venice is made to be admired from the water.