Restaurant Riviera: a journey through taste
Walking through Zattere, it is impossible to miss this place. Characteristic tables and chairs, with a beautiful view of the Giudecca island. This is the Riviera restaurant.
With a magical view of the Giudecca island
In Dorsoduro, along the Zattere, you can dine outside during the summer season, in a place as secluded as it is fascinating. Inside, the atmosphere is elegant and cosy, without being overly formal.
Dishes follow traditional recipes that have been passed down from generation to generation, but are prepared here with a fresh take and a modern twist.
From the freshness of starters such as "moscardino va in montagna" ("little octopus goes to the mountains") to carpaccio of mature beef with toasted almonds and "profumi" ("perfume"), we move on to excellent gnocchi with stracchino cheese and braised beef cheek with fruity mostarda. Among the main courses, the dish "mackerel grazing in the lagoon" is very good. The desserts are interesting, starting with the funny names: "tirame su" (with gods) and the excellent "cow and bees" with yoghurt ice cream and pollen garum. The wine list is also well organised, with good suggestions by the glass, all focusing on the Triveneto regions.
"Luxury is not an expensive car or a yacht. True luxury is being able to find authentic natural ingredients that work in harmony with our bodies. That, for me, is priceless. And that's what we do daily for our Guests," delights Cremonini, as he darts from one table to the next to take orders from his much-cherished guests, all of whom come to savour an authentic taste of this city.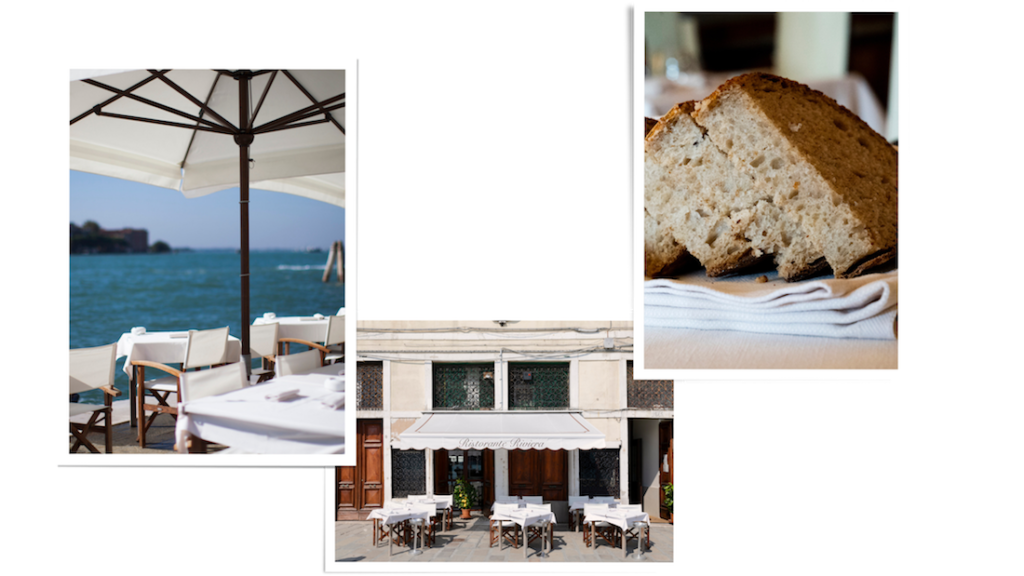 From musician to restaurateur
Giovanni Pietro Francesco Maria Cremonini, known as 'GP', is characterised by a dandyish elegance in his dress and manners. Long grey hair tied up in a ponytail, large red glasses are definitely his trademark.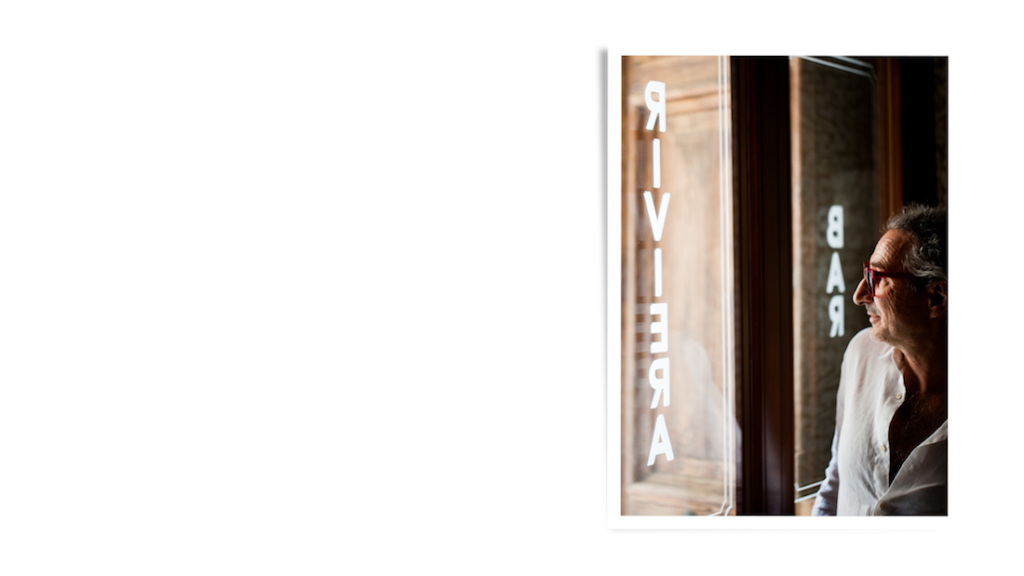 GP is undoubtedly an original figure. A musician and traveller, a man of great culture and extraordinary sensitivity, he has become a restaurateur and an impeccable host. This happens in Venice, in a place called Riviera, which sets the mood with its very "subtitle", Ristorante per Omnivori.
"Ingredients are strictly local and seasonal. Our guests need to experience Venice and its rich history through food," claims Cremonini. Indeed, each dish brings this maritime city to life, offering fond, gentle nods to the city's glorious past.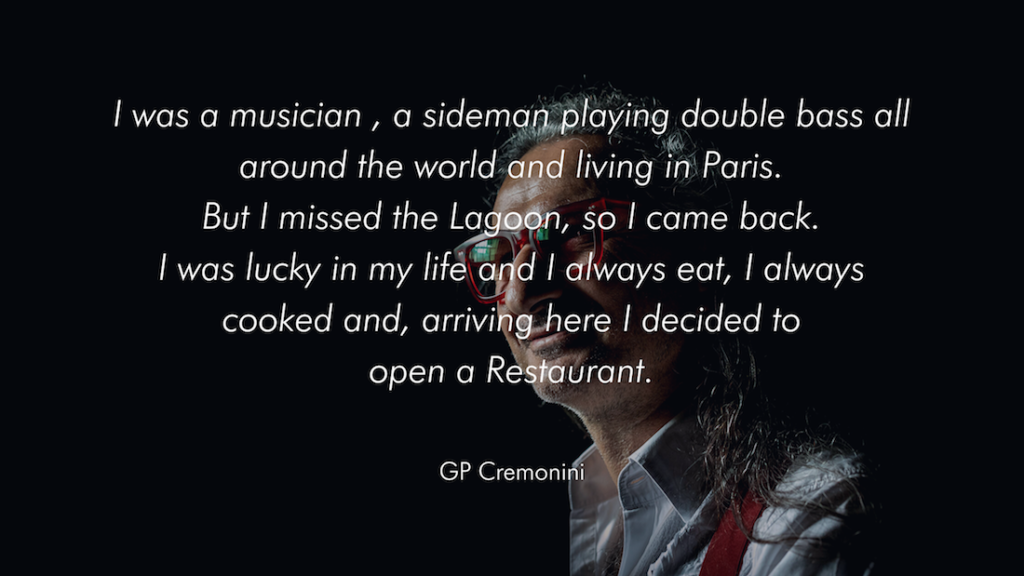 Sant'Erasmo – Venetian vegetable garden
The island of Sant'Erasmo, located in the Venetian lagoon, has been famous for centuries for its agriculture, which has earned it the nickname 'Venetian vegetable garden'. Sant'Erasmo, known above all for its prized purple artichoke, which belongs to the Slow Food presidium and is protected by a registered trademark, owes its agricultural talent to its clayey and very salty soil and the fact that it was once fertilised with scoasse (in dialect: rubbish), as well as shells and crab shells, used to correct the acidity of the soil. So it is no coincidence that a group of about fifteen Venetian restaurateurs chose this island of the lagoon to initiate a project to restore a former agricultural plot in order to cultivate and revive typical varieties. The Riviera Restaurant is one of these restaurants.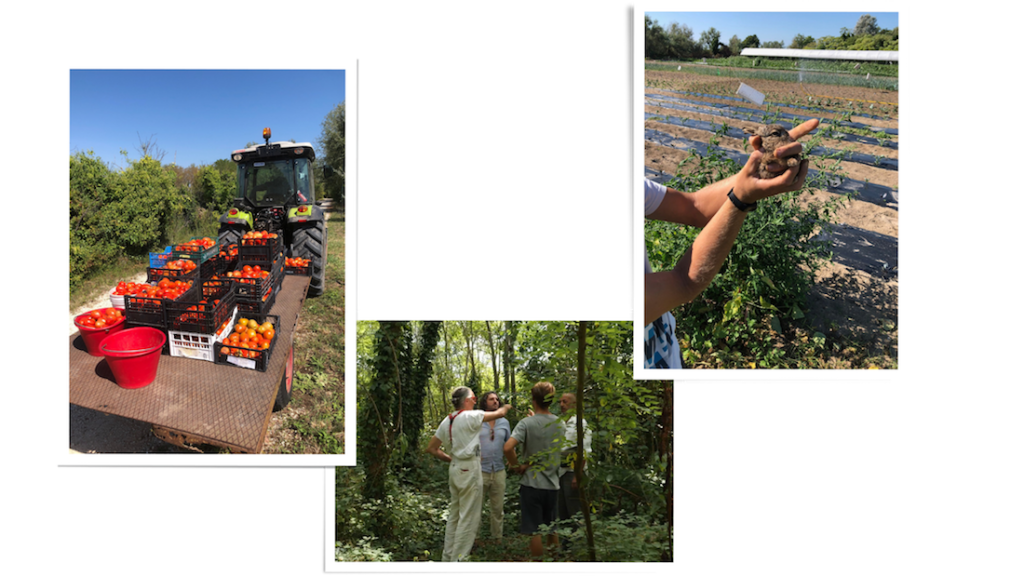 The name they gave themselves is "Osti in Orto" and the owners are some of the most famous restaurateurs on the lagoon (Rioba, Riviera, Testiere, Trattoria Vittoria da Aldo, Marciano e Marcianino, Vini da Gigio, Antiche Carampane, Da Rioba, Trattoria Anzolo Raffaele, Covo, Covino, Trattoria da Ignazio, Da Guido – in Jesolo), as well as a distributor (Rialto Frutta), the Trentino company Uova di montagna (founded in 2016. by Giovanni Tava and Mattia Cristoforetti, who now want to raise some of their chickens in the lagoon), and Davide Tozzato, who elsewhere could be described as a young man returning to agriculture, since he founded the La Maravegia (The Miracle) agro-gastronomic project on the island in 2014.
A group of the above-mentioned Venetian chefs came up with the idea of having a piece of land where they could grow organic and domestic products. Four of the nine hectares were made available and immediately sown with courgettes, green beans, tomatoes and cucumbers. This is not just about growing vegetables, but rather a return to growing old varieties (including pink asparagus, white peaches, pumpkin and courgettes, as well as Trebbiano and Rabosetto wines).
"The desire was to be integrated into lagoon life and to be able to give our guests what the lagoon gives us", explains GP Cremonini, owner of the Riviera restaurant and one of the most convinced and passionate supporters of the project.
So when you come to the Riviera restaurant, you can be sure that everything the chefs serve you is made in slow food style, with great respect for tradition and this unique place that is Venice.
RIVIERA RESTAURANT, Fondamenta Zattere Al Ponte Lungo, 1473, 30123 Venezia VE